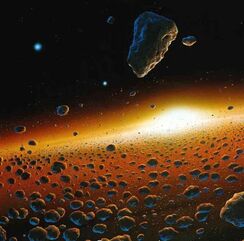 Wadraf ist kein Planet , aber trotzdem ein wichtiger Punkt der Galaxis . Wadraf ist ein riesieger Asteroidenhaufen , der zu 65% aus Korgon besteht . Diese Tatsache macht ihn sehr beliebt für Minenkolonieschiffe . Seid nun rund einem halben Jahrhundert arbeiten verschiedene Schiffe daran , dass nützliche Korgon abzubauen , werden aber oft durch Konförderationskriege wieder vertrieben .
"Wenn bloß nicht diese verdammten Asteroiden gewesen wären ..."
Admiral Irutex zu Rafan 12.447 n.AC
Ad blocker interference detected!
Wikia is a free-to-use site that makes money from advertising. We have a modified experience for viewers using ad blockers

Wikia is not accessible if you've made further modifications. Remove the custom ad blocker rule(s) and the page will load as expected.