Die Kros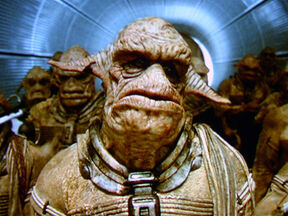 Die Kros sind die eher unzivilisierten und etwas ungepflegten Lebewesen, aber dennoch eine rasant verbreitende Rasse. Sie werden auch die
Räuber der Galaxis
genannt, denn sie sind dafür berüchtigt Schiffe zu überfallen, Städte und Siedlungen zu plündern und zu überall zu brantschatzen. Dennoch gibt es auf Seiten der anderen Priors ein großes Interresse an einer Konförderation mit den Kors, denn gerade durch ihre Skrupellosigkeit sind sie extrem gute Kämpfer, wodurch sich es Gegner meistens zweimal überlegen, der Konförderation den Krieg zu erklären.
Religion
Die Kros verehren ihre großen und rumreichen Toten. Als Mesus werden diese bei vielen Ritualen beschworen, damit sie aus ihrer Geisterwelt, dem Asketan, die Kros zu unterstützen. Wer sich als großer Kämpfer oder edler Mann betiteln kann, wird ins Asketan als Mesus aufgenommen und verehrt. Jede Großfamilie hat mindestens einen Mesus hervorgebracht und verehr diesen auch. Kleinere Seelen kommen auch ins Asketan , allerdings nicht als Mesus , sondern als Iro , Energie , die von den Mesus als Nahrung gebraucht wird . Die Religion wird als Asketmus bezeichnet (natürlich nach dem Asketan benannt ) .
Ad blocker interference detected!
Wikia is a free-to-use site that makes money from advertising. We have a modified experience for viewers using ad blockers

Wikia is not accessible if you've made further modifications. Remove the custom ad blocker rule(s) and the page will load as expected.