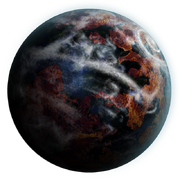 Kasadorn ist ein unabhängier Planet , der auf Ruinen einer Stadt der Vergessenen gebaut wurde . Er ist Treffpunk von Schmugglern , Piraten , Kopfgeldjägern und Politischen Flüchtligen . Die anliegenden Konförderationen trauen sich nicht , sich des Planets zu bemächtigen , da die Ruinen unter anderem Strahlenbatterien beinhalten , die eine Flotte problemlos vernichtenten könnte , obwohl dies wohlmöglich alle Energiereserven des Planeten aufbrauchen würde . Der Planet liegt im Falcon-Quadranten . Der Foron-Dichter Turil Von schrieb einst über diesen Planeten :
Planeten wie Kasadorn können Anfangspunkt von riesiegen Raubzügen oder Befreiungskämpfen sein
Achtet und fürchtet diesen Treffpunkt von Gestank und Freiheit
-Turil Von 14.892 n.AC
Ad blocker interference detected!
Wikia is a free-to-use site that makes money from advertising. We have a modified experience for viewers using ad blockers

Wikia is not accessible if you've made further modifications. Remove the custom ad blocker rule(s) and the page will load as expected.