Garist ist ein Wüstenplanet , auf dem sich viele Ruinen
der Vergessenen
befinden . Auf Garist befinden sich 3 Große Städte namens Gardon 1 , Gardon 2 und Gardon 3 , wobei diese "Städte" hauptsächlich nur aus Landeplattformen und Hütten bestehen . Der Planet ist Treffpunk von Schatzsuchern und Abenteurern . Garist war lange Zeit in der Geschichte unabhängig , war aber auch schon einige Zeit unter Kontrolle diverser
Konförderationen
, da
Artefakte
in Konförderationskriegen ausschlaggebend sein können . Das auch nach Jahrtausenden immer noch neue Artefakte in unentdeckten Ruinen gefunden wurden , liegt größtenteils daran , dass der Planetare Sturm immer neuen Sand auf Ausgegrabenes schüttet , wodurch größere Archologie-Expeditionen kaum mit Erfolg gesegnet waren und sind .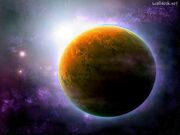 Ad blocker interference detected!
Wikia is a free-to-use site that makes money from advertising. We have a modified experience for viewers using ad blockers

Wikia is not accessible if you've made further modifications. Remove the custom ad blocker rule(s) and the page will load as expected.