Foron
Die Forons sind ein sehr stolzes und edles Volk. Sie sind sehr hoch angesehen und werden in Sachen Handel und auch Technologie sehr bewundert. Sie haben ein großes Handelssystem, wodurch sie zu großem Reichtum gekommen sind. Vom äußerlichen sind sie den Menschen am ähnlichsten jedoch etwas größer und schlanker. Durch ihren Reichtum kam auch ein großer Neid auf Seiten der Arbeiter und der ärmeren Bevölkerung auf. Dieser Neid entwickelte sich in den Jahrehunderten zu einem Hass. Diesen nutzte der Foronpolitiker Estavo aus um sich mehr acht zu angeln und führte mehrere Proteste gegen die Regierung der Foron Konförderation. Diese wurden ignoriert und so spaltete sich ein Teil von der Konförderation ab. Seitdem arbeiten die sogenannten Faterions gegen die Forons, um ein besseres Leben zu erlangen. Jedoch ergeht es ihnen nicht viel besser, da ihre Anführer recht skrupellos und hart regieren und immer versuchen für sich selber ein schönes Leben zu arrangieren.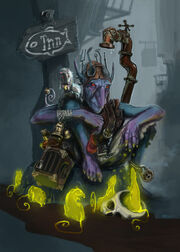 Religion
Nach Meinung der Foron ist Akan Bar das personifizierte Licht aller Sonnen der Galaxis . Er soll den Foron auf ihrem Heimatplaneten die Technologie für Raumschiffe gezeigt haben und soll eines Tages wiederkommen und die Foron unsterblich machen . Der Glauben ist in der Galaxis unter nicht Foron und Secus allerdings nicht weit verbreitet , da der Glaube sich nur über Foron handelt.
Ad blocker interference detected!
Wikia is a free-to-use site that makes money from advertising. We have a modified experience for viewers using ad blockers

Wikia is not accessible if you've made further modifications. Remove the custom ad blocker rule(s) and the page will load as expected.