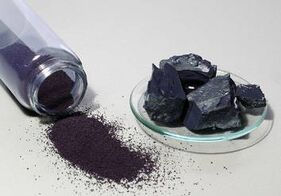 Agritt ist der Standard Sprengstoff in der Galaxie es ist ein indigo farbiges Pulver und besteht aus einem Kristall und einer festen Säure. Der Kristall heißt Destomit und ist auf vielen Planeten zu finden. Er hat eine braun gelbe Färbung und sieht eher wie ein Sandstein aus. Indem man Destomit zu Pulver verarbeitet und die pulverisierte Chalokrylsäure hinzutut, welche einfach weiß ist, färbt sich das pulver indigo und ist hoch explosiv. Agritt kann auch mit Hilfe eines Binde- oder Knetmittels zu einem formbaren, plastischen Sprengstoff gemacht werden. Dieser wird vorrangig vom Militär eingesetzt, um zum Beispiel Türen oder Wände punktgenau zu sprengen.
Ad blocker interference detected!
Wikia is a free-to-use site that makes money from advertising. We have a modified experience for viewers using ad blockers

Wikia is not accessible if you've made further modifications. Remove the custom ad blocker rule(s) and the page will load as expected.