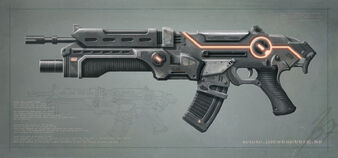 Die MS3YK oder auch MK3 ist ein Sturmgewehr, welches gerne von Kopfgeldjägern oder Sondereinheiten der menschlichen Armee eingesetzt wird. Es hat eine sehr hohe Durchschlagskraft und auch eine Reichweite bei normaler Gravitation von rund 300m. Doch der verkürtzte Lauf und die geringe Größe machen es sehr Handlich. Es hat 45 Schuss und kann durch Knopfdruck als Repetiergewehr oder Schnellfeuerwaffe einsetzt werden . Es ist reltativ schwer herzustellen und deswegen teurer als Standartgewehre .
Ad blocker interference detected!
Wikia is a free-to-use site that makes money from advertising. We have a modified experience for viewers using ad blockers

Wikia is not accessible if you've made further modifications. Remove the custom ad blocker rule(s) and the page will load as expected.